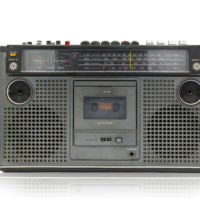 Springfield, MO – Much to the surprise of its new owner, a boom box purchased from Red Racks contained a magical genie. "I'm a rapping genie and I'm here to say, I like to grant wishes in a tricky way," explained the hip hop genie.
It all began last Tuesday morning. Mitch Granville, who lives near West Bypass and Sunshine, slid into his beat-up 1972 Ford F-100 through the passenger side (the driver's side has been bent into place, and has not opened the entire time Mr. Granville has owned the automobile). His destination? The Red Racks across from Hy-Vee.
There, he found a scratched up boom box. The kind that only plays cassette tapes and FM radio (the AM/FM knob is broken, so it's stuck on FM). Mr. Granville purchased this item for an outrageous $12.99. Upon returning home, he wiped the dust off the item, revealing a genie that looked an awful lot like a 1990s NBA star.
"What up? I'm the genie of the boom box," the genie introduced himself.
"I didn't know what to do," Mr. Granville explained later. "He gave me three wishes. So, I wished for a mountain of hamburgers, unlimited rentals at the Redbox, and bacon."
With his wishes granted, the genie retreated back into the boom box.
"I don't know what that genie did," Mr. Granville complained, "But my Marshall Tucker's stuck in there. But, all-in-all, it was an uneventful interaction with a genie."
The Marshall Tucker Band could not be reached for comment.