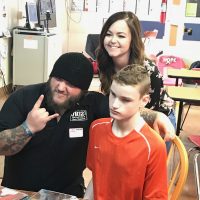 So awhile back I received a message from an old college friend, Aidan, about a student of hers that LOVES Seether, and Q102!
She sent me a video of Cody doing a "Q102 intro" to Seethers hit song, "fine again"
I thought to myself.. this kid is super cool.. so I decided that I wanted to do something awesome for him!
I instantly began combing, and rummaging through all of our stuff (we have a lot of stuff) to find him some cool things.
I mean…I had to meet this kid!
So eventually with the help of Aidan, and Val(our super cool and supportive program director) I was able to get a sweet prize pack togehter and get set up to visit Mr. Cody on his last day of school before Christmas break.
So Val and I get to the school, sign in, and were escorted to Codys Classroom.
I knew this kid was freaking cool already because he was listening to Seether when I came in! he had been asking his teacher if he could hear the LIVE version lol I could tell the kid knew his stuff and had a heart full of music!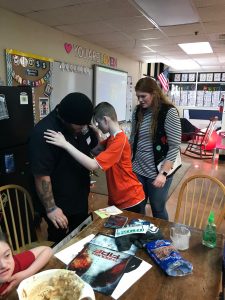 we were introduced and he seemed really excited when I presented him with all the stickers, and autographed CD's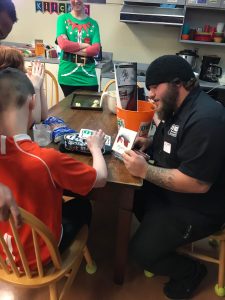 my favorite thing to give him was a Q102 poster that I had gotten signed by all my interviewees from the Rocklahoma 2k17. the poster had a TON of signatures, but the one that stuck out was a big signature from Shaun Morgan or Seether!!!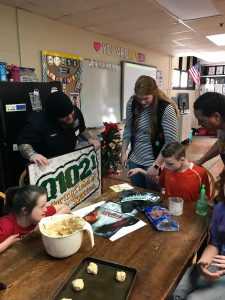 that's what its all about man! I remember being a young kid listening to q102, and the feeling of getting too talk to the Dj's or the chance  win tickets to cool concerts and actually have a chance!  I remember Shadow giving me a shirt at metagames once and that was a BIG DEAL to me… I try my best to give that feeling to as many people as possible, but Cody was just really cool!
Before we left, Cody had something for us in return, he treated us with his amazing Drum and Vocal cover of "Fine again" and dude… it was good! this dude has some serious talent and I am so grateful to be able to see this in person!
I hope to hear more from Cody! Thank you Cody! thanks for being such a rad guy, and thanks for being my friend!!