We've all been there… the infamous "clap" at rock shows!  NO! I'm not talking about the common std found in 80's – 90's rockstars… I'm talking about the point in the show, when the artist says something like "alright everyone clap with me!" and like a horde of mind controlled super badass Rocker Zombies,
we obey!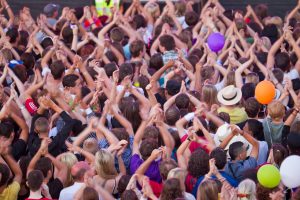 its crowd participation!
its unity!
ITS… frankly a little confusing at times…
So your having fun clapping with your fellow fans, but then the music just keeps going.. and the claps kind of fade out…
WHEN IS THE CORRECT TIME TO STOP??
do you wait all the way until the next part?
What happens when the moment leaves, and you dont want to continue clapp? does that make you less of a rocker??
Does the Artist even want you to stop?
is there Like… a memo sent out before each show? is that why everyone is always on their phones??
I talked to Jay the 80's Metal Guy, to get his take on the matter..
As inclusive as this was…
I WAS able to come up with a conclusion..
STOP DISSECTING THE LOGISTICS OF THE SHOW, AND JUST ENJOY THE DAMN MUSIC!!
I feel like that's a fair conclusion…
but for fun, what do you think?
or are you one of the assholes that just doesn't participate??