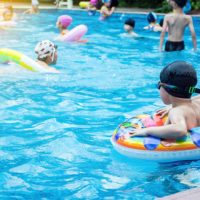 Yay! Many of the Springfield Greene County Pools open this Saturday! Check out  Fassnight, Grant Beach, Silver Springs and McGee-McGregor outdoor pools! Want to take a dip and save money? The  Splash & Sizzle is for those who wish to swim after 5:30 p.m., and all day on holidays and special weekends 
Cost: For kids 3-17 as well as for seniors (60+) is $3.00.    Adults- $4 .
All ages are $1/person or free admission with canned food donation every day after 5:30 p.m., and during Splash & Sizzle events.
(Free swimming at McGee-McGregor Wading  Pool  for kids ages 6 and under and only when accompanied by adults.)