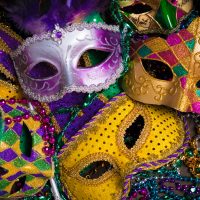 Overweight Lead Singer Inserts Laugh Break in Set for "Fat Tuesday" Joke
Ted Rexton, lead singer of Assault and Pepper Spray and Dearborn, Michigan resident, has battled weight problems his entire life. Reported, he's felt this way his entire life. However, a holiday and coincidence has shed new light on this issue.
"I was working on our set list for tonight when I realized…It's Fat Tuesday."
Given this startling revelation, Rexton sprang into action.
"I finally have a funny, original way of addressing my weight on stage," Rexton stated. "The whole band has said, at one point or another, that my weight is what is holding us back. Now I can finally address the elephant in the room."
Rexton said he plans on inserting the joke in-between songs entitled "What About Witchita?" and "Hey, Big Mama."
"It seems like the perfect time to address the issue and…wait a second. When I said 'elephant in the room' early, that wasn't supposed to be a reference to my weight. Do you think I should use that? It's pretty funny, right?"
Though Rexton believes his joke to be original and clever, he joins an estimated 548 bands and 718 stand-up comics across the United States planning on using the same joke.
"I think the audience is going to love it," said Rexton, who has, to date, been wrong about what the audience likes 100% of the time.