Leslie Goes to the Slayer Final World Tour
Friday May 17, 2019 marks the date as the last time Bonner Springs, Kansas will ever see Slayer live on stage. The fifth leg of the tour featured Cannibal Corpse, Amon Amarth and Lamb of God in support of the thrash metal legends.
This was my second Slayer show and the first time seeing Cannibal Corpse. I was late to the show due to traffic on Interstate 435 (thanks, Kansas City) and I missed my opportunity to photograph their set. As I watched their set, I started to remember the time spent with my first boyfriend and how he wrote love letters that contained some lyrics to "F***ed with a Knife". The guttural growls and controversial lyrics reflects the band's passion for the art of horror, the screaming, the speed of which they play and the images that the lyrics paint could be disturbing for some, but for me it's a little therapeutic in some ways. Cannibal Corpse is a great way to let your daily stresses out, that's why I have them on my workout playlist for the gym.
And speaking of imagery, Amon Amarth brings what some call Viking Metal to the tour. A replica of a Viking Longship placed on the stage; the hull, prow and the figurehead of a dragon peered out at the audience setting a Nordic tone to the show. I hadn't seen Amon Amarth before and honestly, I didn't know what to expect. They brought the deep, dark intensity of melodic death metal and sang stories of myth, legend and some truth. Amon Amarth never let their energy never wane. The power that they brought from Sweden to Kansas left me wondering what a headlining show of theirs would be like. Word on the street is that Amon Amarth has a headlining tour scheduled for this fall, and an Amon Amarth show is one that cannot be missed.
Some people are emotionally attached to bands and I never thought that I'd be the one who would go full "fangirl" because they're just regular people after all. However, after watching "As the Palaces Burn", a Lamb of God documentary, I was feeling some sort of way, enlightened or empathetic perhaps? I can go on for hours about how emotionally invested I was in this film, but that's a different story for a different day. Once Lamb of God took the stage, I became flooded with thoughts like "omg RAAAAANNDDDYYYYY!!", "John looks like he's a gentle person" after seeing how content he looks as he plays and "I wonder what it was like for Mark to record with Chester Bennington", which is always a thought as "Cross Off" comes up during my shift. Lamb of God is one of those bands that I will always be excited to see. Their show is intense, the presentation is very energetic and you can tell that every person on that stage puts every ounce of themselves into their performance. Sometimes I find that the line between fan and photographer is very thin and this night, I was down in the photo pit singing along. Behind me, I heard other fans scream Randy's name all throughout their set. I wondered if they were having emotional moments as well.
And then it was time for Slayer. You could feel the energy in that amphitheater and the anticipation waiting for that curtain to drop. Then suddenly everything went red, fire provided the background and fans were screaming from every direction. My thoughts went back to my first boyfriend trying to impress me by playing songs from Seasons in the Abyss with his black Ibanez guitar and tiny amp. Slayer played an impressive  20 song set, playing something from all but 3 of their studio albums making their last show in Bonner Springs a memorable one.
There are so many people out there who has a story that begins with "the first time I heard Slayer" and "I rocked the hell out of Reign in Blood on Guitar Hero III." All of the bands on Slayer's farewell tour range from 25 to nearly 40 years in the metal scene. We grew up with them. We are all emotionally invested in them in some way. One of the best things about this entire concert was when I looked around at the audience that night, I saw so many families.  All these little kids threw the horns up, dads headbanging with their daughters, mothers danced with their sons. Even Jesus made an appearance.
Slayer might be done with touring, but their legacy will continue with these kids and I hope one day they'll tell a story that begins with "my parents took me to my first concert and it was Slayer, Lamb of God, Amon Amarth and Cannibal Corpse."
Be sure to listen to The Pit, Sundays from 10 to Midnight where Baden and I will undoubtedly talk more about this show.
SLAYER JESUS!!!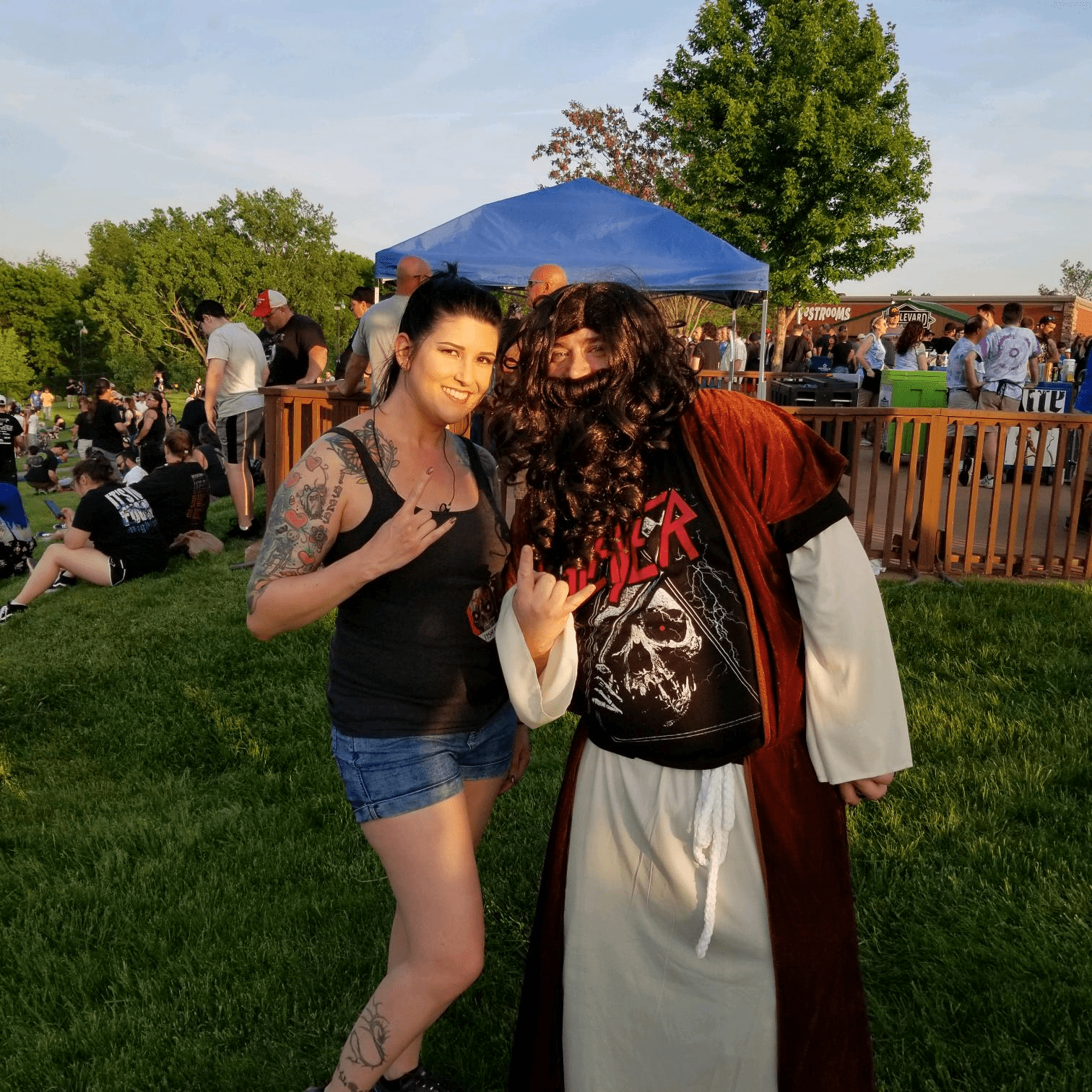 Amon Amarth
Lamb of God
SLAYER