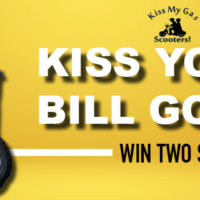 Q102 wants you to Kiss Your Gas bill GOOD-BYE with not one but TWO Scooters from Kiss My Gas Scooters!!
Listen weekdays at 10 am, 2 pm, and 5 pm for your chance to score a key that MIGHT start a scooter on Saturday, November 20th at The Riff!  You can also register to win a key under the Road Crew section if you are a Road Crew member!
Please CLICK HERE to see the official rules for details.