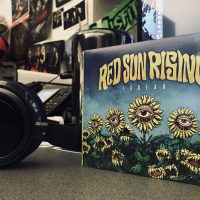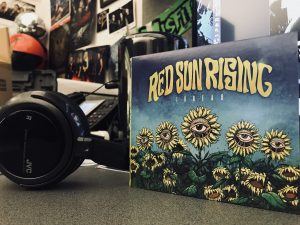 IN A NUTSHELL
    A BRIEF ALBUM REVIEW BY BADEN ON Q102
                  "RED SUN RISING, THREAD"
First of all, I want to express that this album is a prime example on why you should listen to an artists entire new album and not just "the singles".
This album was crafted very well, and with all the ups and downs of life as well as all the feelings that accompany them.
THREAD is what I would call Modern "grunge/Alt " .. but I try not to get too hung up on the genres and sub genres.
This is a band full of AMAZING musicians and writers and this album flaunts that fact very well.
The further I got into it, the more I could  picture starting at track one, and just letting it play as I drive a long distance.
I WILL say that this is more of a "listening" album as opposed to a "sing along", except for the single "death wish" 
This (in my opinion) is due to those artsy rhythms that might make it hard for musically inclined fans to follow along.
However, I do not think of this as a bad thing. 
To me, the album is more like a painting, you look(or in this case, listen) and admire it. Let it consume your thoughts and enjoy as the melodies, thought out lyrics take you on a ride!
For those who enjoy picking the songs apart to listen to the layers and everything else going on, you'll have a great time with this record! There are tons of intimately placed accent instruments that REALLY fill out the sound! Then you get to the beautiful guitar layers, that you KNOW just had to take a lotto time.
The mixing, and over all production of THREAD is top notch and shouldn't go unmentioned!
With Haunting vocal melodies and very beautifully done harmonies, well crafted guitar, and  solid rhythm section. Red Sun Rising has made an amazing record and its definitely worth the listen!