Where are you from?
Grew up in Rogersville and moved all the way into Springfield.
Who is your favorite band?
Beck. Always Beck. #Beck4Lyfe
What was your best "Rock N Roll" moment?
Having grown up here, I saw The Urge play at The Juke Joint and The Regency a million times. Flash forward a decade and I'm still watching their shows- only this time I'm hanging backstage with them.
After the show, they're passing a bottle of Ketel One vodka around. I've had way too much to drink already and politely decline- but they won't take "No thanks." for an answer. I wake up the next morning on the front porch with the front door wide open- I never made it inside. I find a phone number in my pocket with "Call Me" scrawled under it. I get worried because I'm happily married, but I call it to get the story. A dude answers- it was their drummer. He just wanted to make sure I had gotten home alright. He felt guilty for "making" me drink all that vodka.
What drink is in your hand at a Metallica concert?
The same thing I would at any other concert- whatever beer is cheapest.
Give us your "Free List" (the top 5 celebrities you would be able to sleep with per your sig other):
No one believes me when I say this, but I haven't really made a list of celebrities that I'd like to have sex with. I mean, I'll see someone on TV and think "Whoa- that's hot!", but then I forget about it as soon as something else comes along.
My Spank Bank is a mishmash of last second choices.
What sports are you in to?
None. Not even one. I love beer and grilled food, though, so I pretend to be into any sport that I can tailgate at.
Do you have any pets?
I have a Yorkie. She's precious- leave me alone.
What are your pet peeves?
Poor grammar. Text Speak (Ex: "I C U R hm")- just type out the words like a goddamned human being!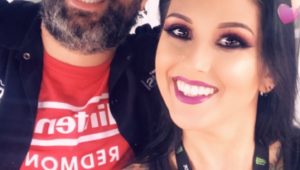 Leslie comes up with some real stupid questions, like, really stupid. Fish is here to answer them. Will Leslie get her answer? Probably not. Will Leslie and Fish go off-topic? Most likely. Click the button below and