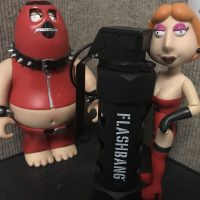 So, I'm a Hot Sauce FREAK.
Hotter the better, and If I dont hurt after a meal, it's  not as good a meal to me.. lol Weird yes, but theres a whole world of people just like me that share this obsession.
One of those people is my Dad! The cool thing about this, is that my Dad travels all around the world and is able to pick up some of the hottest stuff on the planet!
well this time on his way through he brought me this!…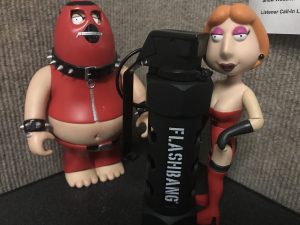 Its Called flashbang, and I feel like the name should be more demonic… but whats in a name right?
This stuff IS INTENSE!!
So intense, that at this very moment while writing this blog, I rubbed my eye after handling the bottle.. and I am completely tortured… like seriously…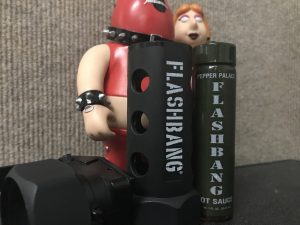 –
It comes in a Vial with all sorts of warning on it, warning about blindness(well shit..), Vomiting, passing out, and even DEATH at higher doses!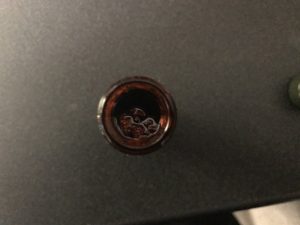 I mean… this shit looks like BLOOD!!(its stings the nostrils!)
At a face melting 3.1 million Scovilles(unit measuring hottness) Naturally I want to take this thing on!
So for the passes few Nights I have been trying to develop some what of a tolerance…. No real progress so far.. here are my nights logs
Night 1: I got cocky.. I put 2 big drops in a large bowl of hamburger helper.. thinking that the noodles would help.. also thinking I was the shit, and nothing could hurt me..
OH GOD!! I WAS WRONG!!!
WHERES THE FUCKING MILK??
OH GOD THAT DIDNT WORK!! KILL ME NOW!!!!!!!!
Night 2: Admittedly, I was a bit intimidated and almost didn't go through with it. BUT IM A MAN DAMMIT! I SHALL OVERCOME!
This Time I put the reccomended amount in a giant bowl of salsa..
YUP!!! THIS STILL HURTS!!!
OH GOD, HOW AM I EVEN STILL ALIVE!
WHY AM I DOING THIS TO MYSELF
SON OF A BITCH!! WE ARE OUT OF MILK!!
GIVE ME A SHOT OF VINEGAR AND A SPOON FULL OF SUGAR!
Night 3: At this point.. ive suffered, and I have live… Im going into this battle probably because in a sick way, I like the punishment..
YUP!! THIS IS GONNA KILL ME!!!
WHAT THE HELL WAS I THINKING??
SOME ONE PLEASE PUT A CIGARETTE OUT IN MY MOUTH!!!
TELL MY WIFE AND KIDS I LOVE THEM!
THIS IS THE LAKE OF FIRE IN A VIAL!
I NEED AN ADULT!!
… Needless to say, I'm Still working on it…
-Baden on Q102