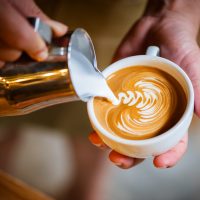 Area Barista Plays Bark at the Moon
Ted Barnes, 42, a lifelong barista currently working at The Bean Grind, had found himself in a musical rut. The Bean Grind's clientele had become used to a certain mellow, hipster-based musical offering from the legendary coffee shop.
"We normally play crap like Yani or Steely Dan or whatever," Ted stated while scratching an itch on his forearm Black Flag tattoo. "It's really lame."
Then, last Tuesday, Ted had had enough.
"I put on Ozzy's Bark at the Moon. People lost. Their. Minds."
"I was just sitting there, having my coffee," explained The Bean Grind patron Mike Johnson, "then, suddenly, this music came on. I'd never heard it. It was…well, let's just say I went home, threw away my unicycle, shaved my goofy, curly-q mustache and top knot, and decided to become a real man."
"I think I changed people's lives," Ted went on to explain. "Some people got really mad. It was an aggressive choice for 8 in the morning. But someone had to do something. Things were getting out of hand."
When pressed for details, Ted explained that just the day before, a customer had told Ted that Imagine Dragons was the only band he'd ever want to listen to for the rest of his life.
"That was probably the straw that broke the camel's back. I was mulling over that for the whole day before I decided to take action."
Ted told reporters that he planned on following up by playing, "Master of Puppets, Judas Priest's British Steel, or maybe even Ace of Spades, but that last one I might have to work up to that one."
More on this story as it develops.