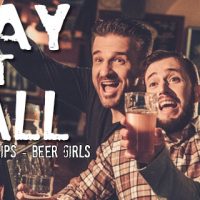 Join Q102 every Monday night at Martys Sports Sar at Campbell & Walnut Lawn for Monday Night Football!
We'll kick things off at 7p with prizes from Fast Break Sports, the Coors/Miller girls and you can win a fly away trip to Vegas every Monday night with $500 spending money.
But you don't have to go to just Vegas… you have a choice in Reno, Lake Tahoe, Mesquite or Laughlin!!  No catch.  Every single Monday night we're giving away a trip for 2 with spending cash!
18 tvs, Keno & MO Lotto, 3 pool tables, 2 dart boards and shuffleboard.
Mondays don't get any better than this! Monday Night Football with Marty's Sports Bar and Springfield's Rock Station, Q102.
Schedule:
09/07 (Thursday Night Football) KC Chiefs at the New England Patriots
09/11 New Orleans at Minnesota Vikings
09/18 Detroit Lions at NY Giants
09/25 Dallas Cowboys at Arizona Cardinals
10/02 Washington Redskins at KC Chiefs
10/09 Minnesota Vikings at Chicago Bears
10/16 Indianapolis Colts at Tennessee Titans
10/23 Washington Redskins at Philadelphia Eagles
10/30 Denver Broncos at KC Chiefs
11/06 Detroit Lions at GB Packers
11/13 Miami Dolphins at Carolina Panthers
11/20 Atlanta Falcons at Seattle Seahawks
11/27 Houston Texans at Baltimore Ravens
12/04 Pittsburgh Steelers at Cincinnati Bengals
12/11 New England Patriots at Miami Dolphins