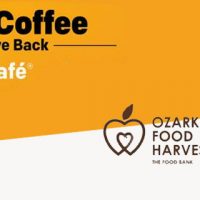 McDonald's Tenth Annual, Cans for Coffee to benefit Ozarks Food Harvest!
Customers will receive a FREE small hot or iced McCafe beverage with a donation of any non-perishable food item. McCafes included in the promotion are all hot Mochas, Premium Roast Coffee, Lattes, Hot or Iced Caramel Macchiato, Americanos, Cappuccinos & Hot Chocolate as well as the iced Macchiato & iced Coffee.
The fall season is a great time to give back to the community and this program gives back while trialing our coffee products. The food donated by customers will be distributed to those in need in your area. Last year, nearly 30,000 pounds of food was collected. Since 2008, McDonald's of the Ozarks has collected more than 232,000 pounds of food—nearly 200,000 meals—from community members through Cans for Coffee.
OFH needs protein! Peanut butter and canned tuna are great donation items!